There is a Roadkill Rescue party going on over at Infarrantly Creative and I really wanted to participate.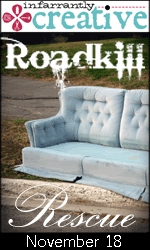 However, the rules of the party are that the item you are fixing up must have been free to you (i.e. from the trash, a relative, etc.) I have several projects I am working on right now, but most of them are items I bought at thrift stores, so I am gonna share some of my favorite fix-ups from past posts that do qualify. Here we go!

Up first are 2 chairs I got from the dump. The man was tossing out 4 of them, but I only had room for 2 at the time. I am still wishing I'd gone back for the others. Oh well. As you can see they were in pretty bad shape.

But after a little TLC, they have found a new lease on life! The
black and white one
I sold at an antique store downtown, hence the price tag.
But this lime green one is the chair in my craft room. I'm sitting in it now, proud as a peacock. If you want all the details on how this transformation occurred, you can
follow this link.
Another one of my favorites is this old entertainment center. Lon's grandma gave it to me, and it was definitely dated, but it was free and that is my favorite word!
Nothing a new coat of paint and some beadboard on the back couldn't fix! I had my brother in law help me with this project while he was in town and it is also in my craft room. You can
go here
if you want a step by step on what we did.
The rockers on my front porch were also free. Lon's grandpa gave them to me. They were out at the family farm and nobody really used them anymore. They needed a sanding and some paint.
But they are perfect on my front porch. I also added decorative door knobs for some detail to the tops of the chairs.
Last but not least, is another item in my craft room. It is the white shelf that holds all my fabrics. There is no "before" picture because I left it exactly as it was. It was given to me when an office went out of business. It held documents, but fits all my fabric perfectly.
Thanks for stopping by, and for lots more Roadkill Rescues don't forget to visit
Infarrantly Creative!